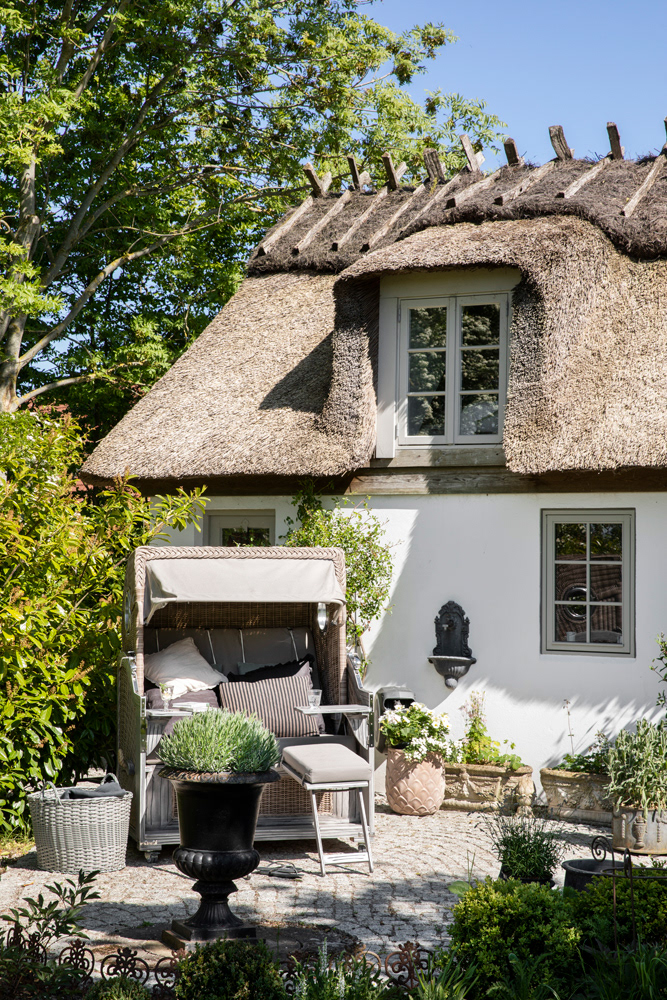 Feature available worldwide except The Netherlands & Belgium
A few years ago, Christine fulfilled a long-held dream: She bought a thatched cottage built in 1856 near the Baltic Sea, in northern Germany 
and renovated it together with her father. 
They replaced the floors, windows, insulation, electricity, plumbing, bathrooms and kitchen. 
The house was also given a matching extension in the historic style, increasing the living space to 100 square metres. 
The house is surrounded by a beautiful 700 square metre garden with various terraces, a large herb collection and an English greenhouse. 
A few years later she met her future husband, they moved in together and got married in a nearby lighthouse. 
This was the occasion for another major renovation of the property. 
The room layout was adapted to the new situation, the attic was converted and a new terrace was created. 
For the interior, the two creative minds combined their respective styles. 
The result was a mix of dark and light, antique and modern elements, inspired by the French and Scandinavian country house style. 
Paintings, furniture and many other objects were largely sourced from flea markets in northern Germany and Denmark. 
They have restored most of it themselves. 
The couple has created a unique country house between the Baltic Sea and the Schlei Fjord, but are still full of ideas for further changes.

Photography: André Reuter
Styling: Miriam Hannemann
Number of images: 85
Season: Summer
Country: Germany
English text available on request
German Text available on request
If you are interested in this feature or if you have any questions, please contact us with this form or send an email to contact@andrereuter.com