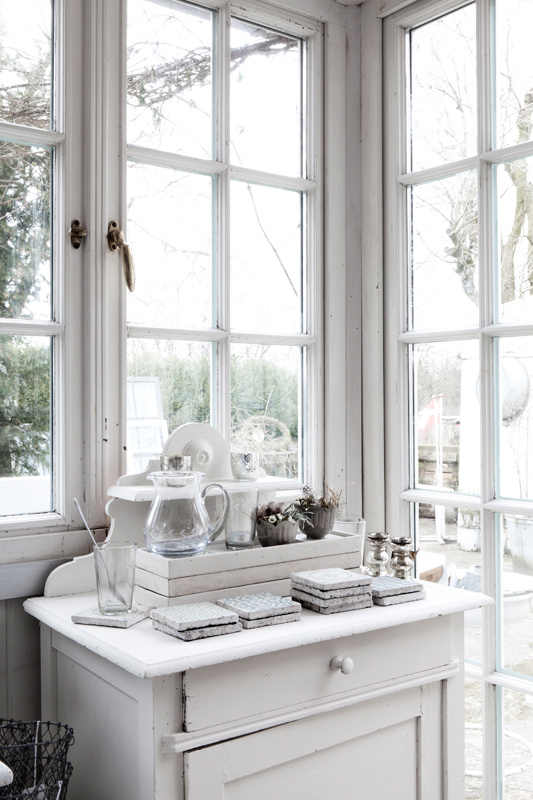 Feature available worldwide
Just 15 minutes to the northsea and half an hour away from Denmark, you can find a former
farmhouse, that has been transformed over the years by creative Monica and her husband
into a 'white island' home and a shabby-chic-shop.  
Everything that matters to her is simplicity and the non-colour white.

The style:
"This is Monica", she says!
In her unusual shabby chic home one is amazed by the stringent simplicity of whites.
It is not cozy not cold either, it is tranquil and really extraordinary. All in white.
The light during the seasons creates the shades of white.
To pay attention to this while decorating or painting or arranging is Monica's passion.
Many still life arrangements, no mess.  
Shabby chic, antiques, quirky finds.
From warm ivory, to rose shades, to chalk white or to blueish or greyish whites, Monica loves this palette!
Monica often finds lovely antiques, quirky pieces on Danish or Swedish flee markets.
Her objects have to be tarnished, they are lovely things that should show their age.
She allows silver candleholders and white tiles to show their shine and glass vases and chandeliers to show their sparkle.
All these objects one finds besides tins of colours in her tiny shop or in the conservatory next door.
Monica paints herself ladders, chairs, trays or whatever she finds.
Being creative and decisive, she has no problem putting collections together for example of books,
salt shakers and soup tureens.

Photography: André Reuter
Styling: Miriam Hannemann
Country of origin: Germany
English text available on request
German Text available on request
If you are interested in this feature or if you have any questions, please contact us with this form or send an email to contact@andrereuter.com